Analytica 2016, Munich
LAMSYSTEMS will participate in the international fair for laboratory technology and biotechnology «Analytica-2016» (Munich, Germany).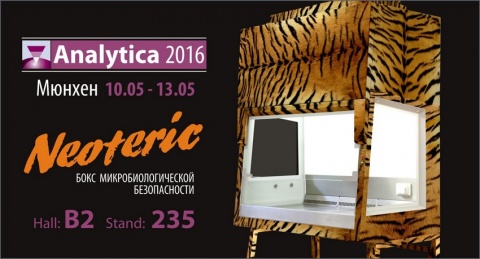 Microbiological safety cabinets class II of the LAMSYSTEMS brand will be displayed there:
- Neoteric is a company's flagship product certified by TÜV NORD CERT. The cabinet has low energy consumption and heat emission. It includes unique construction of the pull-out UV unit, audible and visible alarm system, optical sensors of correct front sash and UV unit placement.
- Savvy is a new product from the next generation of the microbiological safety cabinets. It inherited all the advantages from the previous series Neoteric. A set of constructive and configuration solutions is executed in the new cabinet improving its exploitation characteristics. Three fans in the cabinet brought the noise level down to 47 dBA*. New touch screen offers more informative presentation of cabinet's operational modes, simpler control, and more service and operation information to the user. Cabinet's external dimensions became smaller but work chamber is as large. Procedure of filter replacement became simpler and safer.
* - measurements are taken in the testing laboratory environment
Exhibition dates: May 10-13, 2016
Please visit us at Hall B2, Stand 235.