BMB-II-Laminar-S-1,2 NEOTERIC
Article 1Е-В.001-12.0
Application
Physical isolation (containment and controlled removal from the work zone) of pathogenic biological agents (PBA) and microorganisms to prevent airborne infection of the staff and contamination of the air in the work room and laboratory environment;
Minimization of risk of contamination and cross-contamination of the product;
The cabinet neither protects from toxic chemicals and radionuclides nor contains work agent odors;
Possibility to work with small amount of toxic chemicals and radionuclides as well as to remove work agent odors in case of mandatory connection to an active exhaust system using an exhaust hood supplied upon customer's additional request;
The cabinet is used to equip individual work places in medical, pharmaceutical and other institutions working with pathogenic biological agents and microorganisms.
Standard Configuration
WorkChamber

hinged front sash made of laminated safety glass; opening, closing and upholding is carried out by gas springs;
damper against front sash closing impact;
side windows made of tempered glass;
slanted front surface of the cabinet;
work chamber lighting;
two electric sockets in the work chamber (in the right part of the rear wall);
airflow laminarization screen made of polymer micromesh;
three-section tabletop made of 1.5 mm mirror stainless steel (AISI 304);
work chamber tray made of 0.8 mm stainless steel (AISI 304);
tabletop reinforcements (3 pcs.);
tabletop supports (2 pcs.);
removable armrest made of 0.8 mm stainless steel (AISI 304)
UVUnit

pullout (when inoperative, is stored outside of the work chamber under the tabletop);
metal grille protecting the UV lamp;
dampers against any impact upon lowering the work opening screen.
Supply and Exhaust Air Filtration System
supply air coming into the work chamber is cleaned by supply HEPA filter H14;
exhaust air coming out of the cabinet is cleaned by exhaust HEPA filter H14;
one fan ensuring airflows inside the cabinet
Control System Components
microprocessor control system;
pushbutton control panel with LCD screen;
electromagnetic reader and electromagnetic access keys;
airflow sensors;
front sash and UV unit position sensors;
individual fuse for power supply to the main functions of the cabinet (fan, lighting, UV lamp);
individual fuse for electric sockets of the work chamber;
removable power cord with holder
Testing and Adjusting Components
exhaust opening balancing baffle for airflow adjustment;
built-in outlet for sampling the air upstream of HEPA filters for their integrity testing.
Stand

frame stand with footrest;
caster wheels for cabinet relocation;
screw supports for cabinet fixation at operating site.
MAIN CHARACTERISTICS
| | |
| --- | --- |
| Air cleanliness class in the working chamber of the cabinet in terms of concentration of airborne particles (aerosols) according to ISO 14644-1, not less than | 5 ISO |
| Cabinet class according to ЕN 12469, NSF/ANSI 49 | II |
| Cabinet type according to NSF/ANSI 49 | A2 |
| Class of the installed НЕРА-filters according to EN 1822-1 | H14 |
| Average velocity of the inflow though the work opening, mps | 0,47±0,03 |
| Average downflow velocity in the working chamber, mps | 0,35+0,01 |
| Illuminance level in the working zone, lux, not less than | 1000 |
| Air recirculation rate in the cabinet, % | ≈70 |
MAIN PARAMETERS AND DIMENSIONS
| | |
| --- | --- |
| Article | 1Е-В.001-12.0 |
| Dimensions of the cabinet assembled with stand , mm | 1200x770x2150 |
| Dimensions of the working chamber (WxDxH), mm | 1105x610x750 |
| Dimensions of the cabinet assembled with stand and exhaust hood** /WхDхH/,mm | 1200х770х2355 |
| Weight of the cabinet with the stand in assembly (net), kg, not more than | 235 |
| Maximum power consumption (without the built-in outlets load), W, not more than | 180/110* |
| Total acceptable load on the built-in outlets, W, not more than | 1000 |
| Clean air inflow capacity, m3/h | 795-817 |
| Clean air inflow capacity,m3/h | 333-378 |
* The power consumption with newly installed uncontaminated HEPA filters.
The air flow in the working chamber – vertical downward unidirectional (laminar).
The air flow in the front opening – directed into the front table grille, creating an air curtain.
There is no risk of plenum contamination (the internal high pressure plenum is completely surrounded by low pressure zones)
ADDITIONAL OPTIONS
multi-purpose taps
extra outlets
ULPA-filters
LED lighting of the working chamber
Exhaust hood to connect the cabinet to external exhaust system
DIMENSION DRAWING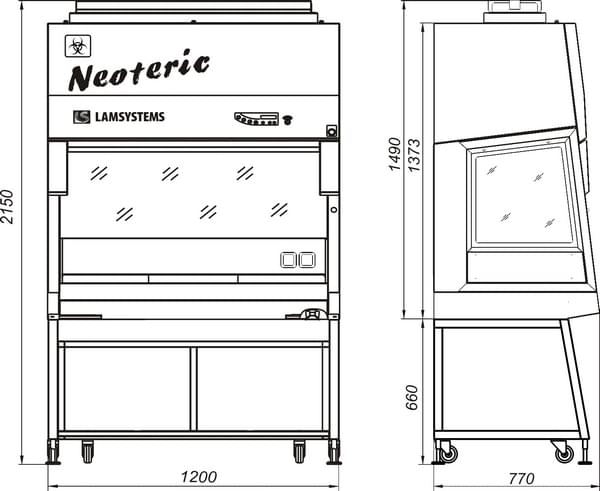 Class II Type A2 Biological Safety Cabinets
MODELS