European Audit. Four Successful Years!
The annual inspection of the biosafety cabinet Neoteric conformance with the European standards was successfully passed for the fourth time.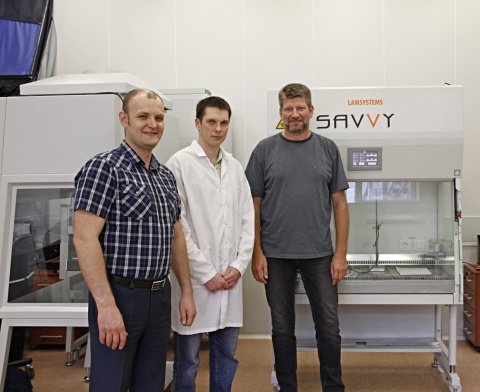 In 2014, for the first time, the Class II biological safety cabinet NEOTERIC passed the certification tests for conformance with the European standard EN 12469:2000 at TÜV NORD organization (Hamburg, Germany) that was attested with a corresponding certificate*.
Ever since, each year, our company asserts its right to place the European quality GS mark on its products. The obligatory annual audit of the manufacturer that received the TÜV certificate is meant to affirm that the serial manufacturing process complies with all the required standards and the output products have the same quality characteristics as the certified sample.
This year, the inspection was held in the beginning of August. The auditor was the representative of the international certification center TÜV NORD (Hamburg, Germany) Mr. Jan Ott.
In the course of audit, the whole set of factory acceptance tests that each biosafety cabinet passes at the final stage of production was inspected. The auditor checked not only the product itself but also the entire manufacturing process: equipment, quality control system, production stages, instrumentation and personnel qualification.
As a result, the annual factory audit was passed unconditionally. The TÜV inspector highlighted the efficiency of the quality control system as well as compliance of the manufacturing organization with the requirements and standards of EU.
Furthermore, during his visit, the inspector carried out the preliminary testing ofthe biological safety cabinet SAVVY SL. The cabinet has lower level of noise (compared to its foregoer), modified front window lifting configuration and an adjustable stand**. Upon the test completion, the TÜV inspector recommended this model for main certification testing to be carried out in Hamburg.
*You can verify the Certificate at the official website of the organization by opening the document List of certified safety cabinets on page 7.
**Not part of the standard configuration, can be ordered as an additional option.