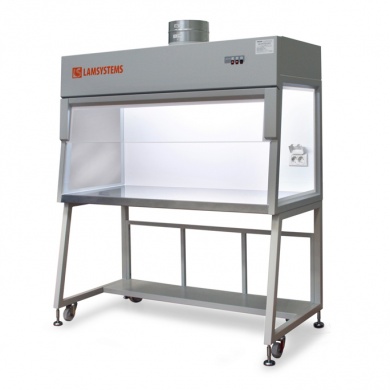 FUME HOOD SHV-1,5-"Laminar-S."
Article 1Е-E.001-15.0
Fume Hood SHV-1,5-"Laminar-S." removes chemically harmful and low-toxic materials from the working zone providing operator's protection in laboratories with different profiles.
Application
Fume hoods are designed for integrated use with an external exhaust system.

Fume hoods are used for research and other works connected with generation and expansion of low-toxic fumes and gases hazardous to the human health, for work with substances that require active removal of incidental products from the working zone.
Fume Hoods are not designed for work with hazardous and potentially hazardous pathogenic agents and microorganisms.
Main Features
All-metal frame;
Adjustable stand allows to horizontally level the work surface;
Illumination lamp with protection screen located inside the working chamber;
Electrical sockets inside the cabinet for connection of additional tools;
All metal surfaces powder coated and resistant to disinfectants;
Front window – tempered glass, can be fixed in two positions;
Back-pressure valve prevents air from flowing back into the chamber;
Flange adapter for connection to the external exhaust system, diameter 250mm;
Side surfaces of the chamber are made from tempered glass.
Main parameters and dimensions
FUME HOOD SHV-1,5-"Laminar-S."
| | |
| --- | --- |
| Article | 1Е-E.001-15.0 |
| Dimensions of the assembled cabinet with stand, mm (WхDхH) | 1500х770х1880 |
| Dimensions of the work chamber, mm (WхDхH) | 1500х710х1110 |
| Mass of assembled cabinet with the stand, kg, not more than | 126 |
| Input power of the cabinet, W, not more than (exclusively of the load on the built-in outlets) | 75 |
| Input power of the fan, W, not more than | 27 |
| Maximum load allowed on the sockets, W | 1000 |
| Luminance level in the working zone, lux, not less than | 1000 |
| Airflow outflow volume, m3/hr, not less than | 450* |
* - * Connection to the active exhaust system with efficiency not less than 885 m3/h is required to maintain average inflow speed not less than 0,5 m/s
Dimensional drawing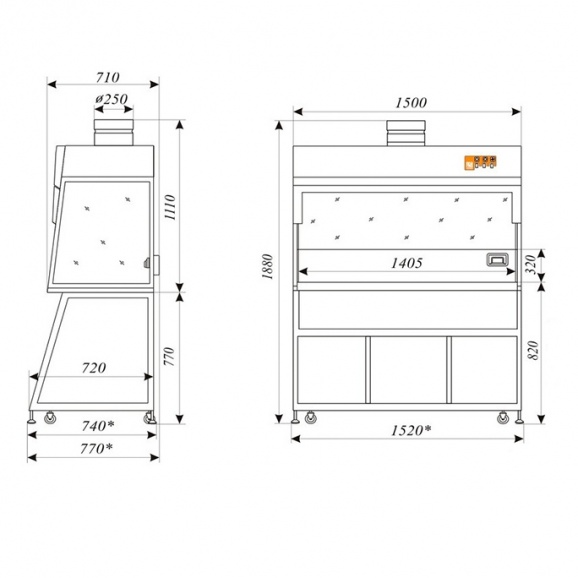 Air flow scheme