NEOTERIC at BIOTECHNICA
LAMSYSTEMS CC specialists participated in an international exhibition Biotechnica 2013 which was held in Hannover on October 8-10, 2013.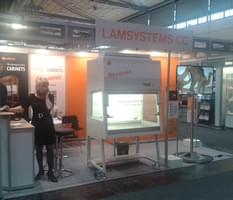 The new Microbiological Safety Cabinet, class II (type A2) Neoteric was displayed at the company's stand. That cabinet meets the requirements of the European standard EN 12469:2000 «Biotechnology. Performance Criteria for Microbiological Safety Cabinets».
Visitors pointed out the high quality of implementation and interesting design solutions of the Russian equipment.