New product developed by LAMSYSTEMS – the glove box!
The glove box is designed for creating a gas environment with a controlled residual content of oxygen and water vapor inside the work chamber and the pass box.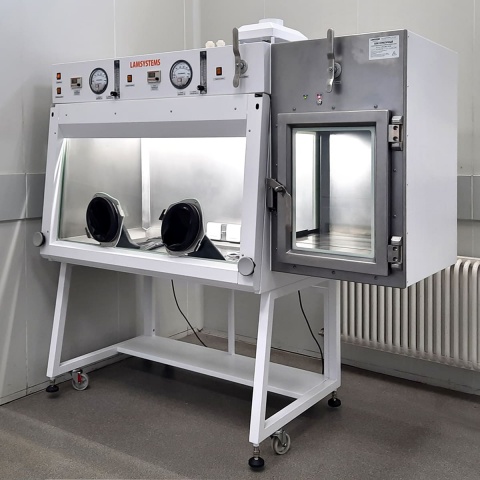 The operating principle of the glove box is based on the displacement of atmospheric air by a working inert gas (nitrogen, argon, dried compressed air, etc.) without evacuation. The air outlet is carried out through the air ducts into the installation room. If necessary, the glove box can be connected to an active exhaust ventilation system via exhaust hood with compensation clearance which prevents the exhaust ventilation operation from effecting on the glove box performance.
In the basic modification, the working gas flow into the work chamber and the pass box is manually controlled. If necessary, this process can be automated. To control the intensity of gas flow, the float flow meters are installed in the glove box. To control the residual content of oxygen or water, appropriate sensors can be installed in the glove box.
Ball valves are installed in the glove box to seal the work chamber and the pass box. It is possible to set the required positive pressure in the range of 0-500 Pa by jointly adjusting the gas leakage and the degree of opening of the ball valve. Differential pressure gauges are installed on the front panel for visual pressure control. The gas supply to the glove box must be carried out through a pressure regulator with a pressure of 0 to 6 atm and a flow rate of at least 8 m3/h.
The front glass panel can be fully opened to ensure unhindered placement of required equipment inside the work chamber. There is a set of sockets placed on the rear wall of the work chamber. The pass box is equipped with the roll-out shelf. Flanges of various standards can be built into the glove box per request.
Data on the speed of bringing the air environment of the work chamber to the required parameters are shown in the graph.