Kazakhstan International Healthcare Exhibition – KIHE 2023: Outcomes
28th Kazakhstan International Healthcare Exhibition KIHE 2023 was held from 17 to 19 May in Almaty.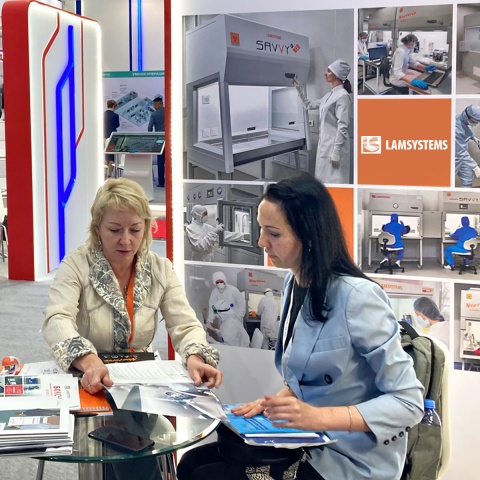 More than 300 companies from all over the world took part in the exhibition, including such countries like Belarus, Great Britain, Hungary, Germany, Egypt, Italy, Jordan, Kazakhstan, China, Latvia, Pakistan, Russia, USA, France, Czech Republic, Uzbekistan, South Korea.
Russian Federation was represented by 76 leading medical companies, including LAMSYSTEMS CC. We demonstrated two of the most popular models of LAMSYSTEMS brand – Microbiological Safety Cabinets Class II.
We are once again convinced that exhibition is an excellent way to showcase the product and provide the end user with the complete idea of the equipment. At LAMSYSTEMS booth, visitors were able to communicate with sales managers and technical specialists and get detailed information regarding different questions such as operational features of the equipment, new developments, after-sales service and individual design.
In addition to the main traffic of visitors, about 30 key meetings and negotiations that were planned in advance successfully took place. This confirms the demand and ongoing interest in our equipment in the Kazakhstan market. It was a great pleasure to meet distributors and end users who work with our equipment in the area of both medicine and pharmaceuticals. Personal communication among specialists helps them to understand each other better and encourages further effective cooperation.
We were pleasantly surprised by the high level of organization of this event! No wonder, this exhibition has established itself as one of the most important events in the field of healthcare in Kazakhstan. Most visitors of the exhibition are specialists and professionals in the healthcare industry who are well aware of the significant role of technology in the development of such a science-intensive area as medicine.
We sincerely thank all the people who were involved in organization of this event and hope to see you next year!