Laminar Flow Cabinet for Bioprinter
LAMSYSTEMS designed a microbiological safety cabinet with enlarged depth and height of the work chamber for bioprinter installation.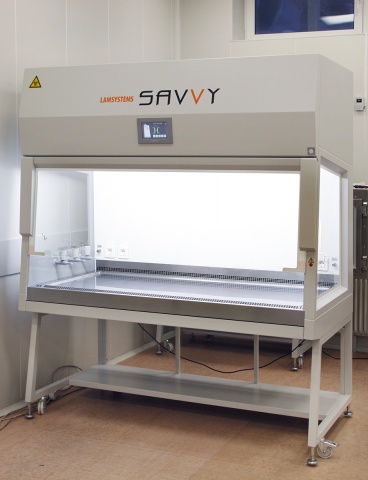 Contemporary world dictates its own terms. New inventions and demands for equipment enrich the scientific world year by year. Increasingly, our clients need customized design for their complex and challenging projects.
Long-term experience and high qualification of our personnel, application of own original design and developments as well as advanced manufacturing equipment allow production of any non-standard customized product. Over the life of the company, we have developed more than 1500 models; and each subsequent task gets even more challenging and interesting.
Recently, our company got a non-standard request from a foreign company. In his laboratory, the customer intended to use a micro bioreactor that required clean air environment and protection of the laboratory personnel for efficient operation.
A class II microbiological safety cabinet SAVVY was given the best fit for this purpose with a single limitation: dimensions of the micro bioreactor exceeded dimensions of the work chamber of the series-produced cabinets. Therefore, based on standard SAVVY, the specialists of LAMSYSTEMS designed a cabinet with enlarged depth and height of the work chamber without compromising the protection efficiency of the cabinet.
Furthermore, the customized biosafety cabinet kept all other advantages of its series: low noise level, power consumption and heat emission, the pullout UV unit, the touchscreen control panel, etc. The cabinet was sent to the customer and now successfully operates at the scientific laboratory.
A little later, we received one more order for SAVVY with an enlarged work chamber to be equipped with bioengineering 3D printers for printing the implants and extra-cellular matrixes using organic materials in Europe. As of today, the equipment has already been manufactured, delivered and successfully operates at customer's site.
Finally, many customized products become serial later since thoroughly designed and high-quality fabricated structure of such products comes into common use in similar industries.