PROTECT Class III Cabinets – Primary Barrier of Maximum Protection
PROTECT biosafety cabinets of class III by LAMSYSTEMS are featured with a range of functional advantages that ensure simple and safe work of an operator.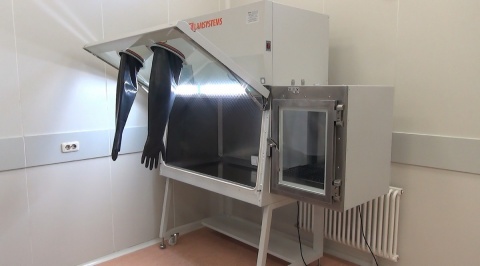 A class III biosafety cabinet is an enclosure where the work zone is completely isolated from the environment. Thereat, an operator is also separated from the work zone with a physical barrier, usually, with a special glass. The operator can do all the manipulations in the work chamber using gloves fixed to the cabinet. Such configuration allows work with especially hazardous microbiological materials like viruses, bacteria, chemicals, radionuclides, carcinogens, etc.
The operating principle of the cabinet is based on the continuous supply of the filtered air into the work chamber and its double-filtered exhaust into the environment. Whereas, at least 200 Pa negative pressure is maintained in the work chamber.
The PROTECT class III biosafety cabinet by LAMSYSTEMS is not just functional but is also user-friendly. Almost all of the manipulations for loading and disinfection can be easily done by a single person and do not require any additional personnel.
One of the main advantages of the cabinet is facilitated opening of the front window. High elevation of the sash ensures easy loading of large equipment required for operation into the work chamber.
A pass box featured with disinfection UV light provides safe transferring of materials and objects from and into the work chamber during operation of the cabinet. The pass box is equipped with two doors that have electromechanical locks as well as with a pullout perforated tabletop for easy transferring of the objects.
The gloves of the cabinet are highly resistant to UV light, ozone, natural ageing, acids and alkalis. As an additional option, the cabinet can be equipped with a self-contained glove integrity testing module that allows detection of any defects of the gloves including such minor damages as needle perforation. The gloves can be quickly and easily replaced by a single person.
Disinfection of the cabinet with formaldehyde vapor required, for instance, before filter replacement can be done using a formaldehyde evaporator that can be placed into the work chamber through the pass box.
You can see all of the advantages of the cabinet including straightforward opening of the front window, functional pass box, easy glove replacement and simple disinfection thanks to rounded surfaces of the work chamber in the video below. Additionally, you can find further information on the PROTECT class III cabinets by LAMSYSTEMS here.