Workshop for German Specialists
A workshop for medical center technical specialists was held as part of the conference in Berlin.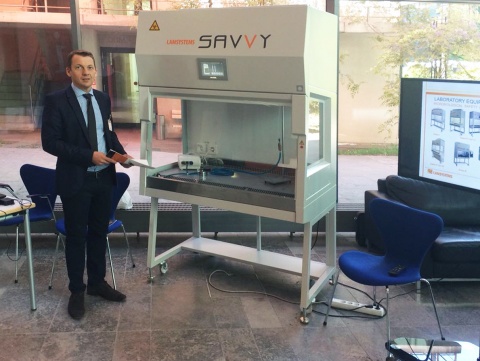 On May 4, 2018, a laboratory learning center Gläsernes Labor held a conference for medical center technicians at the Max Delbrück Center for Molecular Medicine of Berlin-Buch Campus, Berlin. As part of the conference, Lamsystems GmbH organized a workshop on application of microbiological safety cabinets.
The first part of the training session addressed the transmission of pathogens via aerosol particles, the principles of aerosol filtration as well as types of biosafety cabinets and their operation. The second part focused on visualization of airflows and demonstration of specifics of work with biosafety cabinets in the course of standard laboratory procedures through the example ofClass II Biosafety Cabinet SAVVY.
During the lecture, the audience raised interesting and complex questions related to application of biosafety cabinets that were further addressed by the specialists of Lamsystems GmbH. The level and wording of the questions demonstrated vast practical experience of the audience that attended the workshop. The event allowed the manufacturers of laboratory equipment to communicate with the end customers; and such intercommunication is essential for development of reliable high-quality equipment that satisfies the demands of contemporary laboratory practice.