World-Class Sustainability
Just like any other equipment, a biosafety cabinet is a thermal source and a power consumer. The lower these two components are, the more sustainable the equipment is. Specialists of LAMSYSTEMS compared sustainability of the class II biosafety cabinet SAVVY with its equivalents offered by other manufacturers.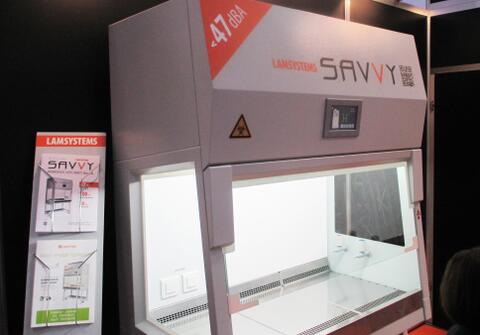 Energy Efficiency
In order to enhance customer benefits of their equipment, the specialists of LAMSYSTEMS strive for reduction of energy consumption of biosafety cabinets. Besides environmental compatibility, it is also cost-efficient for end users. One of the methods used for reducing the power consumption is equipping the cabinets with radial low-noise EC fans that significantly reduce the operating costs, decrease the level of acoustic noise and vibration and ensure comfortable operating conditions for personnel. Furthermore, the EC fans are user-friendly, have long service life and ensure accurate setting of operating modes thanks to microprocessor control system.
In accordance with calculations, the biosafety cabinet SAVVY reduces the power consumption by 33% compared to its equivalents produced by other manufacturers*. Moreover, carbon dioxide emission is also reduced. The cabinet itself does not produce any CO2, however, for each kilowatt-hour of energy produced, there is 0.5 kg of carbon dioxide emitted. Consequently, the less energy is consumed by equipment, the less power is produced for its operation; thus, the emission of carbon dioxide is also reduced by 33%.
Heat Emission
A biosafety cabinet is a source of heat. High heat emissions may lead to increase of the ambient temperature and reduction of air humidity at work places causing personnel discomfort, performance decrement, fatigue and skin irritation.
However, due to low energy consumption, our cabinet produces less heat than even a functioning computer monitor: 80 W emitted by a monitor vs. 45 W emitted by the cabinet. As a result, it lowers the amount of air conditioning required and, thus, reduces all the respective costs.
The main heat-emitting components of a cabinet are a fan, a fluorescent lamp and a front panel that ensures convection heat removal into the environment. In accordance with measurements of air inflow and outflow, the cabinet SAVVY emits 3.8 times less heat than its equivalent on the market*.
* -information on the energy consumption and heat emission of equivalents was taken from public sources: websites and advertising materials.
Noise Level
Operating level of noise depends on the size of the premises where the cabinet is located and on the overall background noise. In accordance with the measurements as per EN 12469, the level of noise of the biosafety cabinet SAVVY (determined in a significantly free sound field over the sound reflecting surface) amounted to 47 dBA which makes the model quiet and comfortable at operation.
Thus, the biosafety cabinet SAVVY is highly energy efficient equipment that ensures low noise and heat emission. You can find additional information on advantages of SAVVY from LAMSYSTEMS here.