Pharmtech & Ingredients 2019
LAMSYSTEMS is a permanent participant of Pharmtech & Ingredients exhibition. This year, the event was held in Moscow Crocus Expo IEC from the 19th to 22nd of November being the 21st exhibition in succession.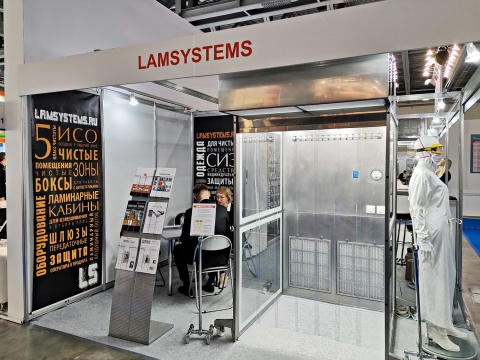 Pharmtech & Ingredients is the biggest international exhibition in Russia and EAEU that brings all the leading manufacturers and visitors interested in pharmaceutical equipment and technologies together.
At its stand, LAMSYSTEMS exhibited the equipment that was designed and manufactured specifically for the pharmaceutical industry:
laminar flow cabin for sterile sampling and weighing;
active pass box with HEPA filter;
ISO Class 5 clean zone.
Laminar Flow Cabincan be used in a wide range of applications where technologic processes require isolation and reliable protection from external contamination. The configuration of the cabin ensures protection of a product inside of the work chamber by removing any contaminants or aerosols produced in the process of operation via laminar downflow. By the way, this downflow was visualized at the stand with a steam generator to demonstrate the principle of operation of the laminar flow cabin.
Active Pass Box isdesigned for transferring the materials between the rooms of different cleanliness class ensuring the maintenance of the required air cleanliness. The pass box prevents simultaneous opening of its doors. Therefore, it eliminates direct contact of the air of the two rooms and its cross contamination.
The operating principle of the pass box is based on 100% air recirculation inside of its body.
The configuration of the exhibited clean zone was especially interesting for representatives of the pharmaceutical industry. Side air intake for simple maintenance of preliminary filters G4, sliding antistatic PVC strips, a built-in perforated tabletop and electric sockets in the work zone – all of these options are highly demanded by the pharmaceutical producers. The clean zone was further equipped with ventilation mode selection of either operation mode (airflow velocity of 0.45 mps + 20%) or standby mode (airflow velocity of 0.25 mps). On the rear wall of the work chamber, there were 2 indicators: a green one indicating normal operation of all the systems and a red one indicating disturbances of any of the operation modes of the cabin. Therefore, an operator can monitor the operating status of the cabin continuously without leaving his or her workplace. A control touchscreen located outside provides detailed information on the operation of the clean zone and its alarms.
Not only the Russian companies but also foreign guests got interested in the products of LAMSYSTEMS. The visitors left their requests for quotes and shared their experience of work with the laboratory equipment of other manufacturers.
The exhibition was highly efficient. Its organizers were able to create a great platform for communication between the manufacturers of the equipment and its users.