EXPO-RUSSIA VIETNAM 2019 Exhibition in Russian-Vietnamese Bilateral Year
On November 14-16, the III International Industrial Exhibition EXPO-RUSSIA VIETNAM 2019 was held in the capital of the Socialist Republic of Vietnam (SRV), Hanoi city.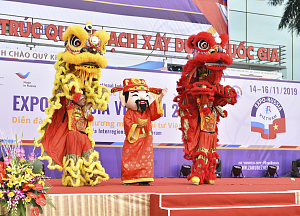 At the National Exhibition Constr Laminar Flow Cabinetsuction Center (NECC), more than 200 participants from 19 regions of Russia and 22 regions of Vietnam exhibited their products.
It is noteworthy that 2019 is the Russian-Vietnamese bilateral year and all the collaborative events, including the EXPO-RUSSIA VIETNAM exhibition, contribute to strengthening of the strategic partnership of the two countries. The exhibition was organized by JSC Zarubezh-Expo and the Chamber of Commerce and Industry of SRV and supported by the Ministry of Foreign Affairs, Ministry of Economic Development, Ministry of Industry and Trade and the Russian Export Center.
For the first time, the exhibition held a Vietnam-Russia Interregional Business Forum and organized meetings between Russian delegations and Vietnamese partners. Exchange of contacts was especially efficient. Round tables on the status and prospective of Russian and Vietnamese cooperation in medical, pharmaceutical and other industries proved to be very useful. The Russian Export Center and JSC Zarubezh-Expo were highly professional in organizing the meetings between the representatives of LAMSYSTEMS and the Asian companies that were interested in cooperation. Thanks to their well-coordinated work, every day of the exhibition was full of meetings and negotiations.
At its stand, LAMSYSTEMS presented the main activities of its holding, i.e. manufacturing of microbiological safety cabinets and laminar flow cabinets, specialized clothing production as well as customized design of clean zones and clean rooms. In the course of the exhibition, the stand of LAMSYSTEMS was visited by the First Deputy Minister of Industry and Trade of Russia Sergey Anatolevich Tsyb who told about current pharmaceutical industry development program in Russia and support of the state manufacturers of laboratory equipment when entering the international market.
The exhibition has shown that LAMSYSTEMS equipment has demand and ongoing interest of the business in Vietnam and other countries of South-Eastern Asia.