Biosafety Cabinet SAVVY at Thailand LAB INTERNATIONAL 2018
LAMSYSTEMS microbiological safety cabinet SAVVY was demonstrated at the international exhibition in Thailand.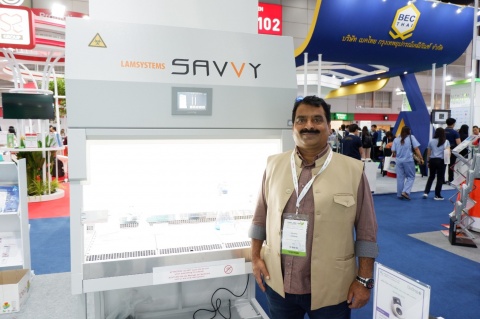 International exhibition and conference Thailand LAB INTERNATIONAL 2018 was held from September 12 to 14, 2018 in Bangkok, Thailand. The main subjects of the exhibition were the laboratory technology, biotechnology, chemicals and safety in Southeast Asia.For the three days, the fair was visited by more than 9 000 people from 60 countries.
LAMSYSTEMS products were presented by our partner Scientific Promotion Co., Ltd., Thailand. At their stand, the representatives of the company demonstrated the microbiological safety cabinet SAVVY and answered to all of the questions posed by the visitors. The cabinet generated a lot of attention. Potential customers were interested in functioning, application, pricing and specifications of the cabinet.