Portable Isolator at MEDICA 2017
The international medical exhibition MEDICA 2017 is going to take place in Dusseldorf, Germany from 13th to 16th of November. At this exhibition, LAMSYSTEMS will introduce its new product: isolating enclosure for transportation of people suspected of being infected with especially hazardous diseases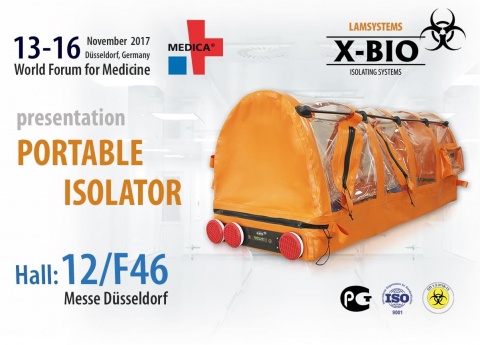 The isolating transporter (also known as portable isolator) is a mobile device that allows primary transportation of people suspected of being infected with especially hazardous diseases or patients affected by microbiological agents from contaminated areas to a designated hospital. The portable isolator can also be used during transportation of immunocompromised patients for their protection from the contaminated environment.
The configuration of the isolating transporter designed by our specialists is featured with a range of functional attributes and advantages that differentiate it from its analogues. For instance:
Active supply and exhaust system. The two ventilation systems (supply and exhaust) ensure automatic adjustment and maintenance of the preset 50 Pa pressure (negative or positive) as well as control of the supplied air volume to guarantee normal breathing of the transported patient. It is worth noting that both of the systems are factory calibrated during installation, and the customer is only required to choose the operating mode. Both of the systems are activated by a single push button. It is especially important since when saving a life, every minute or even second counts.
The base of the enclosure provides an excellent configuration solution. A leak-tight zipper is located 15 centimeters above the bottom of the isolator preventing ingress of any liquids inside the enclosure. Furthermore, the zipper remains intact even after multiple treatments with disinfectants.
The enclosure is featured with a pass box that has two leak-tight zippers providing safe placement and removal of the objects from the isolator. The pass box configuration prevents simultaneous unzipping of the two zippers eliminating any possibility of pressure loss.
Anti-aerosol filters were especially designed for this product. The filters are replaceable. Thus, a patient can stay in the isolator as long as required for transportation.
The level of noise of the enclosure amounts to 45 dB only which is significantly lower then that of its analogues.
The isolating enclosure ensures comfortable conditions for both the patient and the healthcare personnel. Transparent and flexible material of the isolator provides perfect visibility for the medical staff. The enclosure is equipped with a sufficient number of ports for leak-tight connection of the IV solution pipes, drainage tubes, ECG leads and artificial lung ventilation systems. An orthopedic mattress and a stretcher ensure comfortable transportation of a patient. The enclosure is further equipped with four chamber gloves ensuring safe manipulations inside the isolator. A number of fixation straps (four-point fixation and foot fixation) provide reliable fastening of a patient inside the isolator.
Such an isolator is essential for Disaster Medicine Centers as well as for isolation hospitals and first-aid stations. The product has already become an interest of countries with highly infectious environment. Moreover, in the nearest future, scores of portable isolators shall be transferred to the World Cup procurement committee.
To see the isolator and refer any questions, please visit our stand F46 at Hall 12.