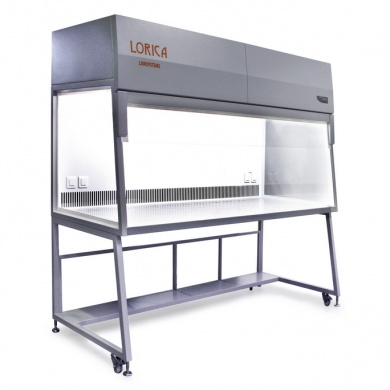 Vertical Laminar Flow Cabinet BAVnp-01-"Laminar-S."-1,8 LORICA
Article 1Е-D.001-20.2/193
Main parameters and dimensions
Vertical Laminar Flow Cabinet BAVnp-01-"Laminar-S."-1,8 LORICA
| | |
| --- | --- |
| Article | 1Е-D.001-20.2/193 |
| Dimensions of the assembled cabinet* /WхDхH/, mm | 2070х980х2220 |
| Dimensions of the working chamber /WхDхH/, mm | 2000х900х1000 |
| Maximum input power of the cabinet, W, not more than (exclusively of the load on the built-in outlet unit) | 1770 |
| Acceptable load on the built-in outlet unit, W, not more than | 1000 |
MAIN CHARACTERISTICS
Installation work chamber air cleanliness class for suspended particle (aerosol) concentration as per ISO 14644-1-1:2015
-for particles of 0.5µm and more
Class 5
-for particles of 5.0µm and more
ISO M (20; ≥5µm); LSAPC
Class of the installed in the cabinet HEPA-filters according to EN 1822-1
H14
Prefilter according to EN 779
G4
Average downflow velocity in the work chamber:
- preset velocity, mps
0,4
- recommended velocity range for customized setting that guarantees uniformity (laminarity) of the airflow, mps
0,25-0,5
Illuminance level in the working zone, lux, not less than
1000
Noise level at 1m distance from the cabinet (at centerline of the work openingwith the front window sash at working position), dB, not more than
55*
* level of noise at Main Operation mode measured as per DIN EN ISO 11201 in free sound field over the sound-reflecting surface (noise level in real operating environment depends on the dimensions of the operating site as well as and on the total background noise and may vary by 3-4 dB(A)).
Dimensional drawing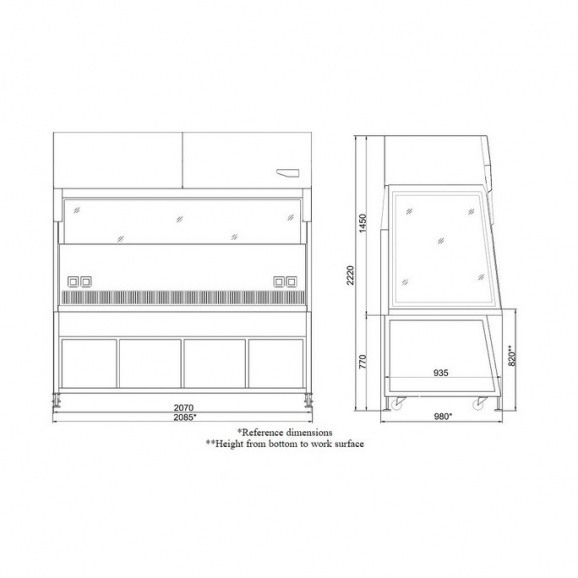 Air flow scheme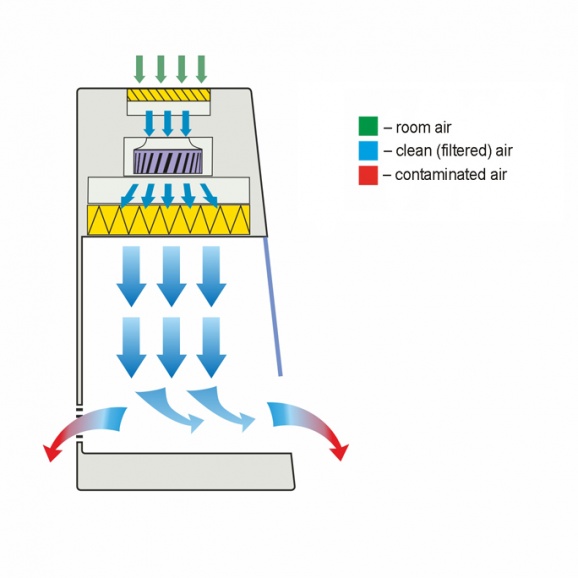 Standard Configuration
Work Chamber
hinged front sash made of tempered glass; opening, closing and upholding is carried out by gas springs;
damper against front window closing impact;
side windows made of tempered glass;
slanted front surface of the cabinet;
LED lighting of the work chamber;
two set of electric sockets in the work chamber (2 pcs. in the right part and 2 pcs. in the left part of the rear wall);
airflow laminarization screen made of polymer micromesh;
tabletop made of stainless steel (AISI 304);
work opening screens for operator protection during UV light operation.
UV light
UV light is located is the upper part of the work chamber rear wall and is covered with a protective grille made of stainless steel;
Supply and Exhaust Air Filtration System:
supply air coming into the work chamber is cleaned by preliminary filter G4 and two supply HEPA filters H14;
three fans ensuring air supply into the cabinet.
Control System Components
microprocessor control system;
pushbutton control panel with LCD screen;
airflow sensors*;
individual fuse for power supply to the main functions of the cabinet (fan, lighting, UV lamp);
individual fuse for electric sockets of the work chamber;
fixed power cord.
Testing Components
built-in outlet for sampling the air from the high-pressure plenum under the G4 filter for HEPA filter integrity testing.
Stand
frame stand with footrest;
caster wheels for cabinet relocation;
screw supports for cabinet fixation at operating site.