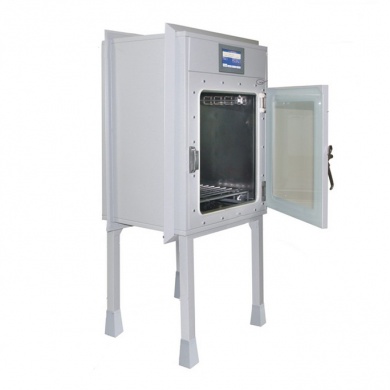 Passive pass Box
Article 2E-P.114-99
PASS BOX (SLUICE) MAKES IT POSSIBLE FOR PASSING THE ITEMS AND MATERIALS:
Between the rooms with different levels of cleanliness,for example between the room with low cleanliness class to the room with high cleanliness class*
*In accordance with air cleanliness classification ISO 14644-1-99.
Between the zones of different biological safety (from hazardous to clean and vice versa) excluding emissions of pathological biological agents and microorganisms (with air or transferred materials).
Pass box can be integrated in the partition-wall of any material.
When installed in a bearing wall (brick, concrete, etc.) without frame stand, maximum width of the wall is limited to 500 mm.
When installed in light or thin walls (drywall, metal, etc.),maximum width of the wall is limited to 380 mm. Frame stand remains in this case providing stability of the pass box during the exploitation period.
Location where pass box is installed must be supplied with a power source.
CONVENIENCE AT EXPLOITATION of of the Pass Box:
"Call-out" function calls for an operator from the opposite side using the sound signal, which is important when the pass box is installed between the rooms isolated from each other.
UV unit's operating parameters can be set independently for each side of the pass box allowing the materials to be disinfected different amounts of time when transferred from the hazardous zone to the clean one and vice versa.
"Cleaning" mode is designed for sanitary disinfection of the work chamber of the pass-box without enabling of the audible and visible alarm.
Adjustable UV unit parameters:
– time interval of the UV-irradiation
– automatic enabling of the UV unit when materials are transferred
AUDIBLE-VISIBLE ALARM automatically warns the user:
– when the UV-irradiation cycle is completed and the materials and items may be removed (at the receiving side)
– when the person is called from the other side
Electromagnetic key allows restarting the pass box control system without shutting down the power.
SECURITYof the Pass Box
Emergency situations when using the pass box are absolutely EXCLUDED since sluice doors are always locked, even when the power is off.
AUTOMATIC ACTIVATION OF AUDIBLE AND VISIBLE ALARM if the sluice door is open for more than one minute.
Sluice doors are AUTOMATICALLY BLOCKED during UV-irradiation.
Protection from the simultaneous opening of the sluice gates is executed by automatic locking of the door on the side of passing/receiving person when the door is opened on the opposite side by receiving/passing person.
Main parameters and dimensions
Passive pass box
Article
2E-P.114-99
Dimensions of the pass box /WхDхH/, mm
725х720х986
Dimensions of the pass box work chamber (without the shelf) /WxDxH/, mm
555х585х655
Dimensions of the work opening  of the pass box  /WxDxH/, mm
500x600
Pass box UV irradiations parameters:
– power of the UV-lamp, W
8
– UV-C radiant power, W
2,1
– reduction light radiant in efficiency in 5,000 hours of operation, %
20
Parameters of the pass box power consumption:
-type of the power network
(L+ N+ PE)
-frequency, Hz
50
-nominal voltage,
220±10%
Maximum input power, W
40
Mass of the pass-box, kg, not more than
100
Dimensional drawing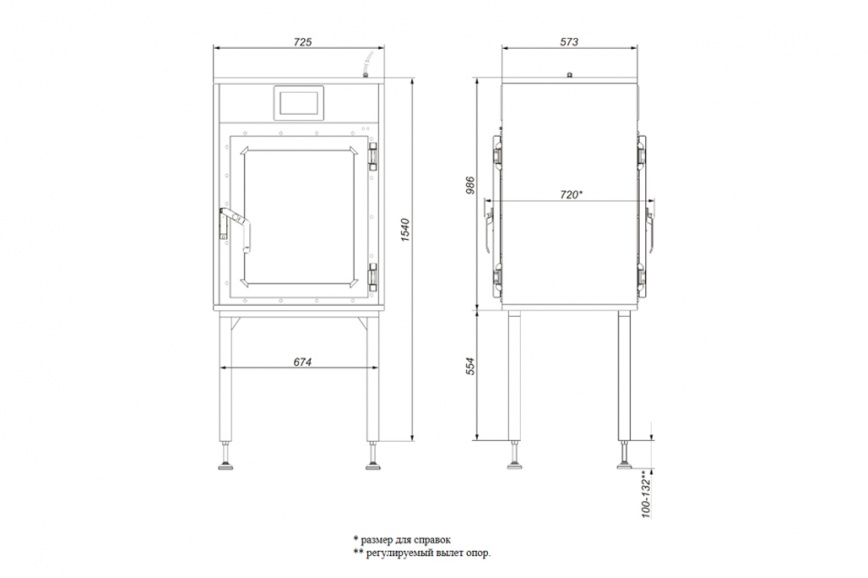 Standard Configuration
STANDARD FEATURES of the Pass Box
Leak-tight outer casing is made of powder coated stainless steel
Facing frames provide thorough and esthetic sealing of the sluice junctions with the wall
Frame stand with screw supports simplifies the installation process allowing for height adjustment
Screw supports are hidden under the dust covers
Leak-tight all-welded work chamber is made of stainless steel
Microprocessor control system is managed with touch-sensor LC Displays located on each side of the sluice box
Two duct stubs are built in for verification of leak-tightness in casing and work chamber
Two gates (one on each side) with triplex windows are supplied with electromechanical locks
Two UV lamps protected from mechanical damage are designed for disinfection of transferred materials
Removable perforated stainless steel shelf allows for disinfection of the bottom of containers with a UV-irradiation