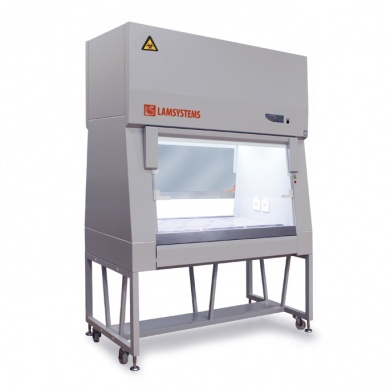 BMB-II-Laminar-S.-1,2 VIS-A-VIS
Article 2Е-В.004-12
Microbiological safety cabinet class II VIS-A-VIS is designed to work with lab animals.
The design of VIS-A-VIS cabinet allows two operators working opposite one another at the same time.
It provides product, operator and environment protection when working with agents of biosafety levels 1, 2 and 3.
MAIN FEATURES
It is equipped with a system of monitoring the operating modes; optical sensors of the front glasses, the UV-unit and the safety closure position; a control panel with LCD touch screen, where operation information of the cabinet is displayed. The audio-visible alarm system is activated upon failure of the safety conditions.
Downward laminar air flow prevents the materials cross contamination in the working zone. The animals' hair catcher is installed under the table top.
A unique pull out UV-unit is included into the basic configuration.
The cabinet is designed for operation in standing or seating position.
Support stand for operators in standing position (height of the working surface is 1,008 mm) .
Main parameters and dimensions
Microbiological safety cabinet BMB-II-"Laminar-S."-1,2
NEOTERIC VIS-À-VIS Class II
Article
2Е-В.004-12
Maximum dimensions of the cabinet /WхDхH/* (dimensions without stand are in parenthesis),mm
1470х730х2050 (1450)
Maximum dimensions of the stand /WхDхH/*,mm
1470х730х600
Dimensions of the work chamber /WхDхH/, mm
1110х700х670
Dimensions of the work zone /WxD/, mm
1110х475
Area of the work zone, m2
0,53
Dimensions of the work openings /WxH/, mm
1110х195
Dimensions of HEPA filters:
Supply HEPA filter /WxDxH/, mm
1130х530х78
Exhaust HEPA filters /WxDxH/, mm
480х530х78
Power Supply:
- voltage ~, V
220-240
- frequency, Hz
50
Maximum input power, W
1620
Maximum input power without built-in electric sockets, W
620
Maximum allowed load on the built-in electric sockets, W
1000
Power of the UV lamp, W
30
Power of LED lamp, W
39
Number of LED lamps
2
Maximum net weight of the cabinet assembled with stan, kg
330
Height from bottom to work surface, mm
810
* dimensions do not account for outstanding supports
MAIN CHARACTERISTICS
Installation work chamber air cleanliness class for suspended particle (aerosol) concentration as per ISO 14644-1:2015
- for particles of 0.5µm and more
5 ISO
- for particles of 5.0µm and more
ISO М (20; ≥ 5 мкм);LSAPC
Class of the cabinet as per EN 12469-2000, NSF/ANSI 49
II
Type of the cabinet as per NSF/ANSI 49
А2
Average downflow velocity in the work chamber
0,35+0,01 mps
Work chamber airflow type
unidirectional (laminar) downflow
Average velocity of the inflow though the working opening
0,47±0,03 mps
Work opening airflow type
directed into the front grille of the tabletop, creating air curtain
Downflow
690-710 m3/h
Outflow:
- when both of the front openings are open
665-755 m3/h
- when one front opening is open
330-375 m3/h
Air recirculation
50/50 %
HEPA filters
1) class as per EN 1822-1
Н14
2) retention at MPPS
99.995%
3) minimum service life
4* years
UV lighting
- UVC radiant flux
11.2 W
- lumen depreciation after 5000 hours of work
12%
- service life
8000 hours
Minimum illumination of the work zone (integral value determined along the whole area of the work zone)
1500 lx
Maximum noise level at 1 m distance from the cabinet
60** dB
* provided the cabinet is operated in accordance with the requirements of the Manual.
** level of noise measured as per DIN EN ISO 11201 in free sound field over the sound-reflecting surface (noise level in real operating environment depends on the dimensions of the operating site as well as and on the total background noise and may vary by 3-4 dB(A))
Dimensional drawing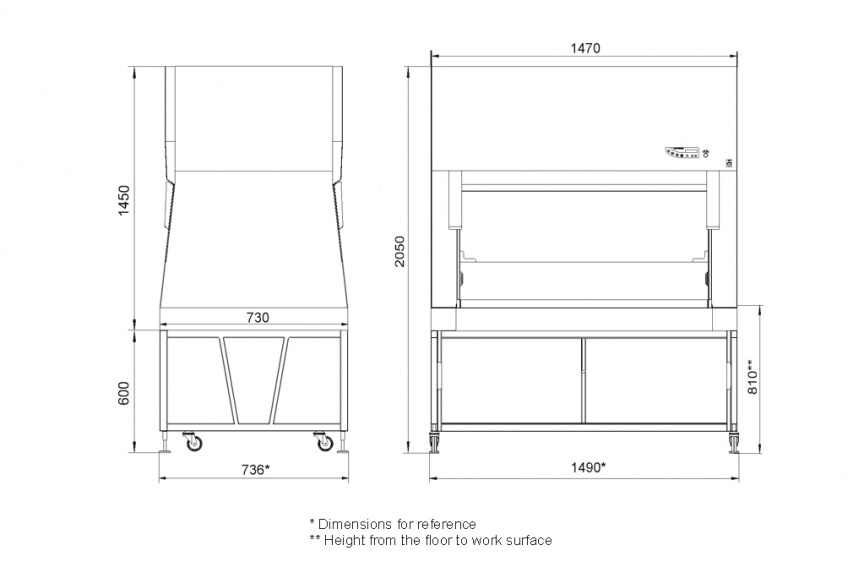 Air flow scheme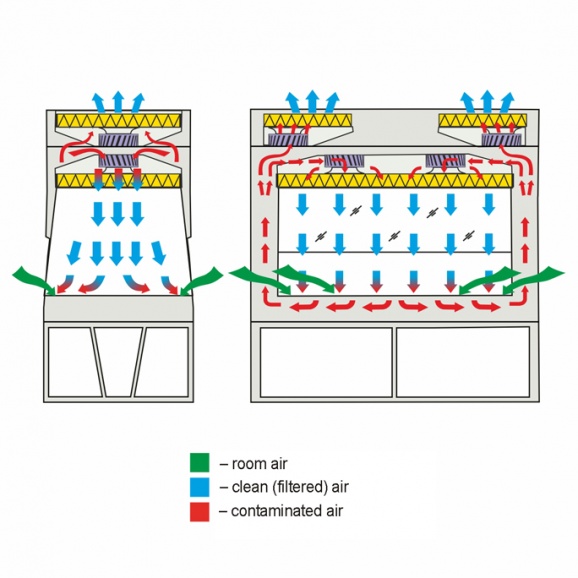 Standard Configuration
Work Chamber:
two front openings for simultaneous work of two operators opposite one another;
slanted front surfaces of the cabinet;
hinged front sashes made of laminated safety glass; opening, closing and upholding is carried out by gas springs;
dampers against front sash closing impact;
work chamber LED lighting;
four electric sockets in the work chamber (2 on right and to on the left side wall);
airflow laminarization screen made of polymer micromesh;
three-section tabletop made of mirror stainless steel (AISI 304) with air intake grille;
work chamber tray made of stainless steel (AISI 304);
two removable armrests made of stainless steel (AISI 304)
Pullout Units with Work Opening Screens and a UV Lamp:
two pullout units with work opening screens one of which is featured with a UV lamp
pullout units are located under the work chamber;
dampers against any impact upon lowering the work opening screen.
Supply and Exhaust Air Filtration System:
two fans ensuring air supply into the cabinet;
two exhaust plenums each one equipped with a fan ensuring air exhaust out of the cabinet;
supply air coming into the work chamber is cleaned by supply HEPA filter H14;
exhaust air coming out of the cabinet is cleaned by exhaust HEPA filters H14.
Control System Components
microprocessor control system;
pushbutton control panel with LCD screen;
electromagnetic reader and electromagnetic access keys;
airflow sensors*;
front sash and UV unit position sensors;
individual fuse for power supply to the main functions of the cabinet (fan, lighting, UV lamp);
individual fuse for electric sockets of the work chamber;
built-in power cord with holder
Stand:
frame stand with footrest;
caster wheels for cabinet relocation;
screw supports for cabinet fixation at operating site.
Additional Components:
mounting wrench kit;
special foam bricks for cabinet mounting.
Testing and Adjusting Components:
built-in outlets for sampling the air upstream of HEPA filters for their integrity testing.