BMB-III-"Laminar-S."-1,8 PROTECT Class III
The model design allows using those cabinets for work with deadly bacteria and viruses.
If connected to the individual active exhaust system, the cabinet could be used for protection from small amounts of toxic chemical substances and radionuclides.
The system of monitoring with the audio-visible indication system warns operator about the failure of working modes in the cabinet.
Key Benefits
The cabinet has a sealed PASS-THROUGH SLUICE GATE made of stainless steel.
A PULL OUT SLUICE TABLE TOP makes loading objects into the working chamber easier.
FRONT SASH can be lifted for equipment loading. It is made of laminated safety glass and equipped with two oval glove ports.
REMOVABLE OUTLET UNIT in the working chamber with self-powered shutoff function.
The design of the cabinet allows integrating several cabinets in one line for continuous technological process.
The cabinet article 2Е-С.001-18 has 4 glove ports which allow two operators working simultaneously. The cabinet is produced upon request.
Application of the Biological Safety Cabinet Class III:
Protection of an operator and environment from airborne infection when working with pathogenic biological agents (PBA) and microorganisms including highly (especially) hazardous pathogenic groups.
Protection of the work agents inside the work chamber from external contamination.
If connected to the individual active exhaust system, cabinet can be used for work with toxic chemical substances and radio nuclides in low quantities and for odor removal from the work agents.
Cabinet is designed to equip workstations in the medical, pharmaceutical, and other institutes working with microorganisms of I-II-III-IV pathogenic groups and with parasitic disease agents
Main Features
Chamber
The work chamber is made of AISI 304 stainless steel;
Front sash can be lifted for equipment loading. It is made of triplex and is supplied with two glove ports. Sash is resistant to UV-light and disinfectant solutions;
Each glove port is equipped with a butyl chamber glove and a silicon sealing O-ring. Features of the gloves: high impermeability (water, gas, vapor), used at wide temperature range, resistant to solvents and high-concentration acids, used for medical, pharmaceutical, chemical and biotechnological research;
Ten-liter liquid gathering tray without drain made of AISI 304 stainless steel is located in the bottom of the work chamber;
Two work chamber LED lighting units;
Removable electrical sockets in the work chamber (on the left side wall);
UV light inside the chamber;
Pressure gauge of -500 Pa to +500 Pa.
Purification System of Supplied and Exhausted Air
Filtering system of the air supplied to the chamber has two steps: preliminary coarse filter G4 and plenum НЕРА-filter Н14 located above the work chamber;
Two-step filtering system of the air exhausted from the work chamber is executed through two consecutive HEPA filters Н14;
Supply and exhaust filtering module for removal of the air from the chamber is supplied with two fans.
Pass Box
Outer panels of the pass box are made of metal covered with powder enamell;
Inner chamber is leak-tight and made of AISI 304 stainless steel;
Angular door location: outer door is in front, inner door is built into the side wall of the work chamber;
The doors of the pass box are equipped with latch handle made of AISI 321 stainless steel;
The doors of the pass box are featured with electromechanical handle locks preventing simultaneous opening of both of the doors;
Windows of the pass box are made of tempered glass;
LED lighting of the pass box;
UV light;
Pullout tray made of AISI 304 stainless steel ensuring easy transferring of the objects from the pass box into the work chamber.
Control System
Microprocessor control system of the electroautomatics;
Cabinet's control unit is a touchscreen;
Sluice control unit is a button box with indication of sluice's doors and locks statuses;
Air balance parameters sensors;
Built-in power cord;
Separate safety devices for fans and removable sockets;
Switch for removable sockets unit installed in the work chamber.
Control Elements of Air Flow Parameters
Built-in air-sampling outlets for testing the HEPA filter integrity.
Class III biosafety cabinet options
self-contained module for testing the glove integrity.
MAIN CHARACTERISTICS
Installation work chamber air cleanliness class for suspended particle (aerosol) concentration as per ISO 14644-1

-for particles of 0.5µm and more

-for particles of 5.0µm and more

ISO 5

ISO M (20; ≥5µm); LSAPC

Cabinet class according to ЕN 12469, NSF/ANSI 49
III
Class of the installed НЕРА-filters according to EN 1822-1
H14
Prefilter Class according to EN 779
G4
Minimal negative pressure in the working chamber, Pa, not less than
200
Permanently provided working negative pressure in the working chamber, Pa, not less than
250

Air inflow filtering
Air outflow filtering

two-stage (G4, H14)
two-stage (Н14, H14)
Air recirculation rate in the cabinet, %
no recirculation
MAIN PARAMETERS AND DIMENSIONS
| | |
| --- | --- |
| BMB-III-"Laminar-S."-1,8 PROTECT Class III | Article 2Е-С.001-18 |
| Maximum dimensions of the cabinet with pass box* (WxDxH), mm | 2320х880х1940 |
| Dimensions of the working chamber (WxDxH), mm | 1740х640х675 |
| Maximum net weight of the cabinet with stand, kg | 400 |
| Rated input power (without built-in electric sockets), W | 460 |
| Maximum input power of the cabinet, W | 1460 |
| Downflow, m3/h | 400-450 |
| Illuminance level in the working zone, lux, not less than | 2000 |
* -
dimensions do not account for outstanding supports
DIMENSION DRAWING of the BMB-III-"Laminar-S."-1,8 PROTECT Class III (Article 2Е-С.001-18)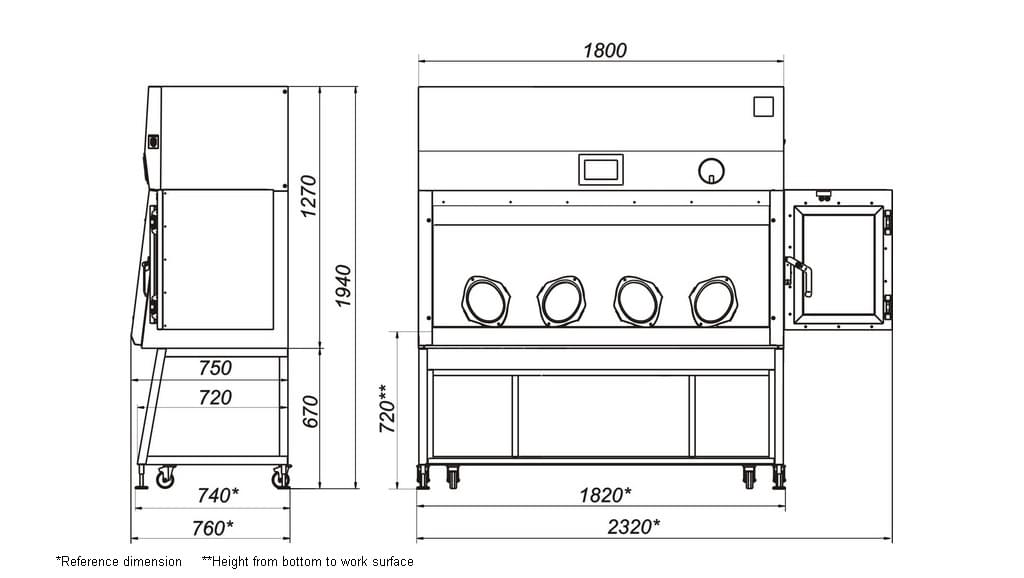 The cabinet for operators working simultaneously opposite one another
BMB-III-Laminar-S PROTECT VIS-A-VIS
Order product