PCR Cabinets for Bactericidal Treatment
A PCR cabinet is a cabinet with a front opening, through which the operator can conduct experiments and perform manipulations inside the cabinet. An antibacterial environment is created inside the cabinet, which is facilitated by ultraviolet irradiation of the interior and surfaces of the cabinet. Let's look at this in more detail.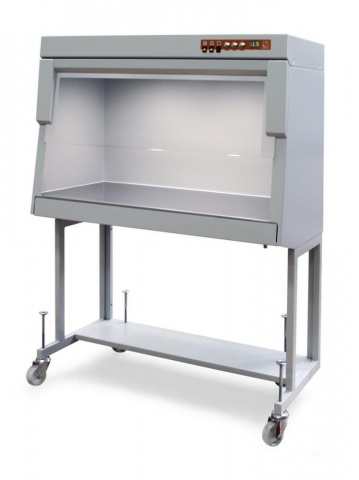 Above the working chamber under the top cover, there is a closed ultraviolet air recirculator intended for air disinfection inside the work chamber of the cabinet when working with tools. The recirculator ensures constant disinfection of the cabinet during operation. It consists of an ultraviolet lamp, dust filters and a fan. The recirculation increases the maximum density of ultraviolet radiation, making it effective enough to inactivate DNA/RNA. The recirculator processes 360 volumes of ultraviolet rays per hour, creating aseptic conditions inside the cabinet.
Main features of a PCR cabinet are:
The front sash is made of tempered glass
Gas springs open, close and hold the sash
The side panels are made of metal
The front surface of the cabinet is made with an inclination
Upper UV-lighting of the working chamber, which does not interfere with the work of the operator
Set of electric sockets in the working chamber
Stainless steel worktop (AISI 304)
If you want to buy a PCR cabinet for bactericidal treatment, please contact our specialists to find the most qualitative yet cost-effective equipment for your laboratory. Our experts will advise you which cabinet you should choose, provide all the details and establish the best price possible.