PCR Cabinet
in stock
PCR cabinet BAV-PCR-«Laminar-S.»
Article 2Е-F.002-10
A PCR cabinet, also called a PCR workstation or PCR hood, is designed for work with DNA samples in clean environment when conducting PCR diagnostics.
Polymerase Chain Reaction (PCR) is a simple way to obtain multiple copies of a nucleotide sequence from a DNA sample and to amplify sequences from small samples. This method is widely used in genetic laboratories that work with DNA and RNA.
The PCR cabinet for work with DNA samples is designed for protection of those samples from contamination during PCR genetic diagnostics. Lab furniture manufacturers set high prices for such equipment, but it is a must-have tool for any laboratory working with genetics, microbiology and DNA studies.
Thanks to the elaborate design of PCR cabinets from Lamsystems, the operator can conduct researches in the work area.
Main features of a PCR cabinet for work with DNA samples are:
The front sash is made of tempered glass
Gas springs open, close and hold the sash
The side panels are made of metal
The front surface of the cabinet is made with an inclination
Upper UV-lighting of the working chamber, which does not interfere with the work of the operator
Set of electric sockets in the working chamber
Stainless steel worktop
Additionally, LAMSYSTEMS cabinets are equipped with a retractable UV unit under the worktop and a special protective grid for the UV lamp. Above the working chamber, there is an enclosed UV recirculator providing additional safety. For greater convenience, the PCR cabinet is equipped with a seven-segment display timer and vandal-proof buttons to adjust the operating time in the ultraviolet range.
Since any PCR diagnostic work is too susceptible and sensitive to any contamination, advanced laboratory methods to minimize external or cross-contamination while working in a PCR cabinet are required to prevent it. Our technologies are ideally suited for handling non-hazardous pollutants and, if necessary, easy access to appliances in the cabinet.
If you want to buy a equipment for work with DNA for your laboratory, but not sure which one you should choose, please contact our specialists to discuss all the details and establish the best price possible.
BAV-PCR-"Laminar-S."
Distinctive features:
All-welded frame of the cabinet
Tabletop is of stainless steel
It is painted with high-quality powder enamel of light colors, resistant to disinfectants
Pullout UV unit located under the tabletop when not used
UV irradiation time is set up with a timer that also indicates the cumulative work time of the UV unit
Front sash lifting mechanism allows fixing it in two positions which eases the process of disinfection of the chamber and of the sash itself from both sides
Lighting unit is located outside the work chamber
PCR cabinet has built-in sockets for connection of the laboratory devices
A cabinet is featured with a closed UV air recirculator installed over the work chamber under the top cover.
Specifications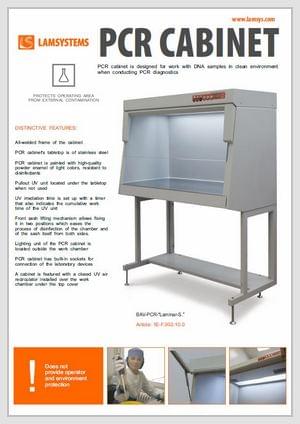 Order product